Membership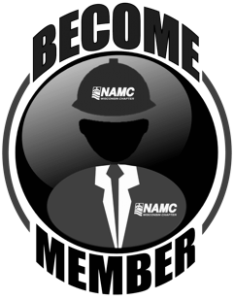 Join NAMC Today
Membership Levels
Membership Levels – Associate, Small, Intermediate, and Large
a) Small: A company whose annual gross revenue is less than $1,000,000 per year.
b) Intermediate: A company whose annual gross revenue is between $1,000,000 and $5,000,000 per year.
c) Large: A company whose annual gross revenue is $5,000,000 and above.
d) Associate Member.
Membership Levels – Associate, Small, Intermediate, and Large
Associate Membership $350.00 USD – Associate members are all natural persons or any statutory business, government agencies, civic organizations, professional engineers, licensed architects, real estate brokers, or any entity that performs services of any type that is related to the construction industry, who support the goals and objectives of NAMC and who wish to demonstrate such support.
Regular Membership: Regular membership shall be limited to individuals and entities actively engaged in the field of general or specialty construction contracting and who are (when required) to perform general or specialty constructing contracting.
Annual Membership Dues
Associate $350.00
Small Company $400.00 USD
Intermediate Membership $600.00 USD
Large Company $800.00 USD
Major Corporate Partner
(MCPs) refers to well defined contracting companies acting as prime and/or major sub-contractors. Such contractors typically operate at relatively major revenue streams, are adequately capitalized, and possess adequate management capacity in procurement, production and financial management.
Membership Benefits Include
Advocacy
NAMC National pursues advocacy initiatives on behalf of members that affect the industry and minority contractors collectively.  Member protection is very important to NAMC and we make great strides to ensure that the interests of NAMC members are looked after.
Education and Training
NAMC-Northeast Florida Chapter (NAMCNFC) provides NCCER Training to its members and open to the public.  NAMCNFC is an accredited Training Sponsor for NCCER who is certified by NCCER to sponsor organization.  NAMCNFC will provide hands-on workshops, Zoom Training and Offer sponsorship to companies, organizations, and agencies who are interested in pursuing construction training.
Technical Assistance
NAMC-Northeast Florida Chapter offers its members with assistance in completing COJ requirements for City opportunities in the City of Jacksonville. Developing relationships with the City and State Agencies assist with completing required applications.
Networking
Our monthly meetings and annual events foster an opportunity to meet and greet other contractors in the market. Having the ability to meet with prime contractors gives and allows our members the a chance to establish relationships and develop strategic partnerships with other members of similar size and work scope.
Business Development Mentor/Protégé Opportunities
Our ongoing commitment to assist small business is through the development of our Member-to-Member program. It is through the creation of this program that real capacity building opportunities are created.  NAMC conducts a matchmaking process aimed at connecting NAMC members with prime contractors.
Donate

National Association of Minority Contractors-Northeast Florida Chapter Inc. is a 501 (c) (3) Private Foundation and under Sections 170, 2055, 2106, or 2522 of the Internal Revenue Codes, donors can deduct contributions, bequests, devises, transfers, or gifts. Your financial contributions are tax deductible and makes it possible to accomplishes our mission and goals.